Broward County Aggravated Robbery Incidents Could Trigger 10-20-Life Law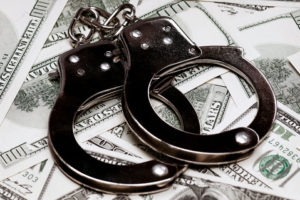 Broward County Police are on the lookout for a man alleged to be involved in two recent robberies at a Deerfield Beach gas station and a Dania Beach convenience store. The robber staged a hold up at gunpoint in the first incident and then shot the 70-year-old manager of the gas station a day later, according to ABC Local News 10. If the perpetrator is caught, he'll likely face robbery counts that will be elevated to aggravated charges under Florida's 10-20-Life law. Under the circumstances involved with the two robbery incidents, the man could be looking at a lengthy prison term.
Robbery Laws in Florida: The term "robbery" is often used interchangeably with theft, but the two are not exactly the same. Robbery is a type of theft crime where threat or force is used in commission of the crime; theft does not involve threats. A prosecutor must also prove that the accused took property belonging to someone else without his or her consent, with the intent to deprive the proper owner of its use. If the prosecuting attorney cannot prove all of these factors, the defendant cannot be convicted of robbery and the case must be dismissed.
Penalties for Robbery Conviction: If there is no weapon involved with the robbery where the accused uses force or makes threats, the crime is a second degree felony. You may be sentenced up to 15 years in prison if convicted. A home invasion robbery is always a first degree felony, regardless of the presence of a weapon.
Harsher Punishment for Aggravated Circumstances: Under Florida's 10-20-Life law, a person accused of committing robbery is subject to mandatory minimum sentencing if aggravating circumstances are present. When a firearm is present, the length of the prison term depends upon how it is used in connection with the crime.
A minimum sentence of 10 years in prison applies if you possess a gun;
You may receive 20-year sentence if you discharge the firearm; and,
You're subject to a 25-year mandatory minimum sentence if someone is hurt or killed by the discharge of the firearm.

It's important to understand that a judge is required to impose the mandatory minimum sentence under the 10-20-Life law: He or she cannot use discretion to reduce the penalties. However, where mitigating circumstances are present, you may request a downward departure sentence to decrease jail time.

Consult with a Florida Criminal Defense Lawyer About Your Case

Having a firearm or other weapon in your possession when committing another crime can elevate the charges to aggravated status, meaning Florida's harsh 10-20-Life law applies. You could receive a long prison sentence with the mandatory minimum rule. While judges have no power to reduce the penalties, you do have options to defend the charges. However, you need a knowledgeable attorney to fight for your rights. Kevin J. Kulik is a criminal defense lawyer with extensive experience in theft cases and aggravated crimes, and will argue all available defenses under the law. Please contact our office today for a confidential consultation to discuss the details of your case.
Resource:
local10.com/news/crime/man-who-shot-gas-station-manager-believed-to-have-robbed-second-convenience-store