Can I Get a DUI for Boating in Florida?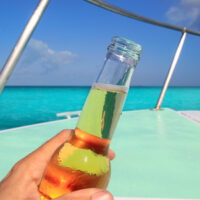 According to the Florida Fish and Wildlife Conservation Commission, alcohol is a leading contributor to both fatal boating accidents, at around 22 percent of deadly incidents being linked to drinking. Law enforcement and prosecutors will aggressively pursue criminal charges were applicable due to the extreme safety risks of boating under the influence (BUI), including:
In the event of a collision, being surrounded by water is an added hazard;
Recreational boaters are often less experienced as compared to driving a car, which can be deadly when combined with intoxication; and,
The boating environment – i.e., sun, wind, motion of the waves – can accelerate the effects of alcohol and impair the operator's capabilities.
Therefore, YES you can get a DUI for drunk boating and you can be sure that officials will step up their efforts on these cases due to the dangers. While you should trust a Florida DUI/BUI defense attorney to represent you, some general information about the offense may be useful.
Florida DUI Laws on Driving Versus Boating: Contrary to DUI laws, it is not illegal to consume alcoholic beverages while operating a boat. However, the law DOES prohibit you from boating while intoxicated. In addition, it applies to any type of watercraft, including fishing boats, canoes, kayaks, power boats, ski boats, yachts, wave runners and other personal watercraft (PWC), and many others.
The legal limit is the same as for drunk driving, so you could be arrested if your blood alcohol concentration of .08 percent or more; under Florida's zero tolerance law for those under 21 years old, the BAC is .02 percent.
Note that police can also charge you with BUI if you are impaired by alcohol, regardless of your BAC. If officers observe that your mental and/or physical capabilities are affected by drinking, they may make an arrest. Examples include:
Bloodshot eyes;
Slurred speech;
The odor of alcohol on your breath;
Difficulties in performing field sobriety tests; or,
Other indications that your normal faculties are impaired. 
Penalties for a Boating DUI in Florida: The punishment for a conviction on BUI charges are just as severe as drunk driving in many ways. You could face:
Up to six months' incarceration and a fine ranging from $500 to $1,000 for a first-time offense;
A fine ranging from $1,000 to $2,000 and imprisonment up to nine months for a second conviction; and,
The mandatory minimum jail sentence is 30 days for a third offense within 10 years, though a judge could order up to five years in prison and a $5,000 fine.
Plus, a judge could order probation, impoundment of your boat, and other penalties based upon your case.
Contact a Florida DUI/BUI Defense Lawyer Right Away 
If you are stopped by officials after having too much to drink on your boat, immediately exercise your rights to remain silent AND request an attorney. The harsh nature of the penalties for BUI may surprise you. For more information on defense strategies, please contact Fort Lauderdale DUI attorney Kevin J. Kulik to set up a confidential consultation at our offices
Resource:
myfwc.com/media/23514/2019-basr-fatalities.pdf
https://www.kevinkuliklaw.com/should-i-request-a-formal-review-hearing-for-a-florida-dui/