Cocoa, FL Man Arrested On Purse Snatching, Other Theft Charges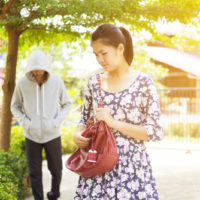 A Florida man is facing serious charges after snatching a purse from a woman who was loading groceries into her car, according to a March 5, 2018 article appearing in Florida Today. The accused was apprehended when he returned to his Cocoa, FL home some time later, having used the victim's credit card to purchase gas at a nearby station. The incident comes just a day after the same individual committed a similar crime, where he grabbed a woman's purse and threw her to the ground. The man the total counts against the man differ for each crime, though one is similar: The Florida theft crime termed Robbery by Sudden Snatching. The penalties can be harsh if you are convicted, especially in the presence of aggravating factors.
Overview of Robbery by Sudden Snatching
Florida law defines this offense as the intentional, unlawful taking of money or property from a person's body. The state prosecutor does not need to prove that violence or threats were used in commission of the crime. Therefore, Robbery by Sudden Snatching may include purse snatching and picking someone's pocket, though the victim is usually only aware of the crime in the case of a purse snatching.
If convicted of Robbery by Sudden Snatching, the crime is a third degree felony which carries a potential sentence of five years in prison, five years on probation, and a maximum of $5,000 in fines.
Deadly Weapon Enhancements May Apply
Where an offender is in possession of or uses a dangerous weapon when committing Robbery by Sudden Snatching, the crime is elevated to a second degree felony and mandatory minimum sentencing applies. Therefore, a judge must issue a sentence of at least 21 months in prison. However, the court may also order:
A maximum of 15 years in prison;
Up to 15 years on probation; and,
A fine not to exceed $10,000.
Note that, in the recent purse snatching incident in Cocoa, FL, the accused sped away in his car and dragged the victim several feet. In some cases, a motor vehicle may be considered a deadly weapon, which mean second degree felony charges may apply.
10-20-Life Firearm Enhancement in Robbery by Sudden Snatching Cases
In addition to a deadly weapons enhancement, this crime may also carry enhancements under Florida's 10-20-Life law. If an offender in a Robbery by Sudden Snatching possesses a gun in connection with the offense, a judge is required to issue a minimum sentence of 10 years in jail. There is the potential for a downward departure to reduce the prison term in the presence of mitigating circumstances.
Contact a Skilled Florida Criminal Defense Lawyer to Discuss Your Case
If you were arrested on charges of Robbery by Sudden Snatching or any other type of theft crime, it is critical to retain a dedicated criminal defense attorney who will fight for your rights in court. Please contact attorney Kevin J. Kulik right away to schedule a confidential consultation at our convenient Fort Lauderdale office. We can review the details of your case and develop a strategy to obtain the best possible result.
Resource:
floridatoday.com/story/news/crime/2018/03/05/man-charged-attempted-murder-after-publix-parking-lot-mugging-rockledge/395838002/