Drug Detecting K9 Leads To Charges for Homosassa, FL Woman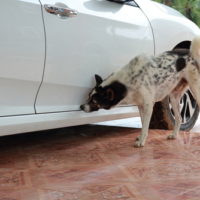 When a Homosassa, FL woman was pulled over for improper lane maneuvers, she probably never expected that a dog would be the key factor in her arrest on more serious charges. The Citrus County Chronicle reported on the March 28, 2018 incident, when police initially apprehended her for the traffic violation. However, when a K-9 unit alerted law enforcement officers to the presence of drugs, they charged the woman with possession of a controlled substance for the cocaine discovered on her person. The story raises interesting constitutional questions when a drug detecting dog assists police in finding controlled substances, as a Florida drug crimes case falls apart without probable cause. Some general information may provide answers.
Probable Cause in Drug Crimes Cases
The legal concept of probable cause is rooted in the Fourth Amendment to the US Constitution, which states that police cannot violate a person's right against unreasonable search or seizure without probable cause. Over the years, courts have determined that this language means law enforcement must have adequate, reasonable grounds to make an arrest, conduct a search, or take property.
In a drug crimes case in Florida, factors that meet this legal standard for probable cause for a proper search may include:
Police observing a person's red, irritated eyes or unfocused gaze;
Officers noting the smell of marijuana or pot smoke;
The presence of needles, pipes, or other types of drug paraphernalia; and,
Other circumstances indicating the potential presence of drugs.
Florida v. Harris
When it is a K-9 drug detecting unit that indicates the possibility of drug possession, probable cause issues are not so clear-cut. However, the US Supreme Court issued an historic opinion on the matter in 2013, in a case that came out of Florida.
Procedural History: During a traffic stop, a K-9 alerted police that he detected the presence of drugs in the defendant's vehicle. Officers used the drug detection dog's alert as probable cause to search the trunk, where they discovered methamphetamine production materials. After losing a motion to keep evidence out of court because the K-9's alert should not be considered probable cause to search, the man was convicted.
 On appeal, the Florida Supreme Court agreed with the defendant, finding that the alert was not sufficient to provide probable cause. The state needed to present more extensive evidence of the dog's capabilities beyond his K-9 certification.
US Supreme Court Finding: Justices at the federal level reversed the Florida court with a unanimous decision, finding that courts should apply the same tests to a dog's alerts as to other factors when determining whether police have probable cause to act. In Harris, the K-9 had extensive training to detect multiple types of drugs, and had been successful in alerting officers to controlled substances in the past.
Trust a Knowledgeable Florida Drug Crimes Lawyer to Fight Drug Charges
There is much more detail in the US Supreme Court's finding in Florida v. Harris, and regarding probable cause in drug crimes and other criminal cases. If you believe you were the subject of an unreasonable search or seizure, please contact Fort Lauderdale, FL attorney Kevin J. Kulik to schedule a consultation.
Resource:
chronicleonline.com/news/crime_and_courts/crime-reports/article_a709d120-33c2-11e8-b391-93d0cbc21105.html