Florida Law Enforcement Cracking Down After Spate of Hate Crimes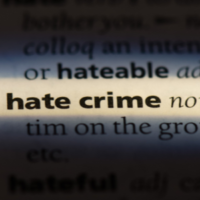 Like many other large urban districts throughout the US, crime rates in South Florida are generally higher as compared to rural areas. However, from time to time, there are spikes with certain types of criminal activity that cause concern for law enforcement; hate crimes definitely fall into this category. A recent spate of offenses linked to prejudice highlights how state and federal officials aggressively pursue these individuals, even when the underlying crime is a relatively minor misdemeanor.
If you were arrested for an offense and the charges were elevated to hate crimes, it is essential to retain an experienced Fort Lauderdale criminal defense attorney right away. You might also benefit from an overview of the hate crimes cases making headlines, as well as information on the legal process.
Florida Law on Hate Crimes: At the outset, you should be aware of how state law treats criminal offenses motivated by bias. The statute provides that a crime will be "reclassified" if it evidences prejudice based upon race, color, religion, sexual orientation, or other protected characteristics. The reclassification essentially elevates the underlying crime to the next level in severity, so a second degree misdemeanor moves up to the first degree. One big jump is when a first degree misdemeanor leads to felony charges.
COVID-19 Dispute Leads to Hate Crimes Charges for South Florida Doctor: The most recent prejudice-motivated crime was reported by the Orlando Sentinel in a March 23, 2021 article, which described a spat between an anesthesiologist and Hispanic man at a store in Hialeah. After the man requested the woman to allow space for social distancing, she followed him into the parking lot. The physician exploded into racial insults, keyed the victim's car, and then punched and kicked him. She faces felony charges that will be reclassified by law.
Federal Hate Crimes Charges for Central Florida Man: A grand jury recently indicted a man for a federal hate crime after he set fire to a church in July 2020. The defendant himself provided evidence that the offense was motivated by prejudice when he:
Stated that he was "a king" on a mission;
Admitting he had problems with the Catholic Church; and
Referenced the Book of Revelations in the Bible.
Recent Shootings Highlight Hate Crimes: Outside of Florida, a series of shootings in Atlanta may lead to hate crimes charges based upon the identities of the victims. The defendant killed eight individuals during the shooting spree, including six Asian-American women. However, the man claims that he was motivated by sexual addiction, not race, so officials may face challenges in showing that the crimes were motivated by bias.
Discuss Your Case with a South Florida Criminal Defense Lawyer
Hate crimes can be difficult to prove, which means the best defense might be casting a shadow of a doubt upon the prosecutor's evidence. Still, there are additional strategies for fighting the charges, so please contact attorney Kevin J. Kulik to learn more about the legal process. We can set up a free, confidential consultation at our offices.
Resource:
orlandosentinel.com/news/florida/os-ne-florida-doctor-hate-crime-hispanic-20210323-oeancs33x5eb5o6sabgfv7kkk4-story.html
https://www.kevinkuliklaw.com/5-quick-facts-about-cdl-duis-in-florida/