Florida Lawmakers To Consider Harsher Enforcement For Texting And Driving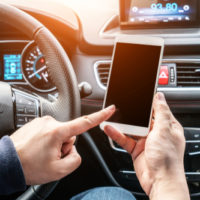 Florida could soon join many other states in the US if lawmakers passed a bill that includes harsher penalties and stricter enforcement methods for motorists who text while driving. ABC News WFTV Channel 9 reported on the measure, which has cleared two Senate committees and is moving forward to the full legislature in the coming weeks. Florida already punishes texting and driving, but it is the approach to apprehending offenders that represents a major change to the law. Texting while driving is a secondary offense, and the bill would make it a primary offense. Proponents say that the new law would reduce the number of serious accidents, as it has in many other states where severe auto accidents decreased by an average seven percent after enactment. If you are a driver seeking to avoid a Florida traffic violation for texting and driving, here is what you need to know.
Florida's Current Law on Texting and Driving
To understand the implications of Senate Bill 90, it is first necessary to review the differences between primary and secondary offenses in the context of traffic tickets.
Primary Offense: When you commit this type of violation, a law enforcement officer can immediately pull you over and issue a citation. Examples would be speeding, running a stop sign, failure to yield, and other driving offenses. If an illegal traffic-related maneuver is more likely to cause an accident, it is generally going to be considered a primary offense.
Secondary Offense: A law enforcement officer cannot stop you for a secondary offense if it the only traffic violation you committed. Instead, police can only issue a citation if they pull you over for some other primary offense – and then discover that you are also engaging in a secondary offense. For instance, illegal window tint may be a secondary offense for which you get a ticket when pulled over for speeding.
Proposed Changes to Texting and Driving Traffic Violations
Currently, Florida law authorizes police officers to stop motorists and issue citations for texting while driving as a secondary offense. Authorities cannot pull you over for this alone, no matter how blatant the conduct. If Senate Bill 90 passes, and many indications show that it will, texting and driving will be a primary offense. The second an officer sees you manually typing, sending a message, or reading on a wireless communication device, you may get a ticket.
Penalties for a Texting and Driving Ticket
While the exact number varies depending on the jurisdiction, the fines for the secondary offense of texting while driving range from $115 to $125. If elevated to a primary offense, these amounts could increase. Counties and local government have the power to set the penalties for a texting and driving ticket.
Discuss Traffic Violations with a Knowledgeable Florida Criminal Defense Lawyer
While the fines for texting and driving may not seem significant, the implications as a primary offense are considerable. Police will have more leeway to pull you over for a primary offense and their ensuing investigation could lead to much more serious charges. For more information, please call criminal defense attorney Kevin J. Kulik at 954-761-9411 or go online to schedule a confidential consultation at our Fort Lauderdale office.
Resource:
wftv.com/news/local/new-bill-would-enforce-stricter-texting-while-driving-laws/682844053