Florida Looters Face Serious Charges for Theft of Firearms After Irma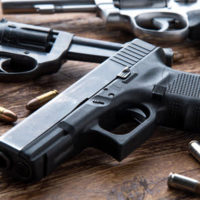 In the midst of the driving rain and howling wind of Hurricane Irma, two teens were arrested for looting from a sporting goods store that had closed due to the storm. ClickOrlando.com reported on September 11, 2017 that Orlando police arrived on the scene and faced a standoff situation when the pair wouldn't surrender. However, one offender exited the building when officers announced that they had the teens surrounded; the other was arrested after police set off gas inside the premises. Under the circumstances, the two minors will face a number of charges because video surveillance cameras caught them loading the guns they were stealing. A Florida criminal defense attorney can tell you more about how theft offenses work when firearms are involved.
Looting is a Burglary Offense
Despite the unique usage of the term, looting is simply a typical burglary crime under Florida law. When a person enters a building owned by someone else, with the intent to commit an offense inside it, the act carries burglary charges. This crime is always a felony, but it's a first degree felony where an offender is or becomes armed with a dangerous weapon while inside the structure. The penalties for a conviction include life in prison for an adult, though the age of the offenders may lead to a lesser sentence.
Grand Theft for Firearms
The teens may also face charges of grand theft, which occurs when an individual takes property of another person or entity:
With the intent to deprive that person or entity of the use of the property; or,
With the intent to appropriate the item for his or her own use.
Grand theft is a third degree felony where the property taken is a firearm, so a conviction may lead to:
Incarceration up to five years;
Five years on probation; and;
A maximum fine of $5,000.
Weapons Enhancements
When someone uses a gun, explosive, or similar type of dangerous weapon in the commission of a crime, the charges may include weapons enhancements. Under Florida law, an enhancement may impact sentencing for an offender, but it's not a separate crime. In other words, there are charges for the underlying crimes with a weapons enhancement that would increase the sentence. Florida's 10-20-Life sentencing structure applies, so the teens face a mandatory minimum of 10 years because they carried guns while looting.
Trust an Experienced Florida Criminal Defense Attorney
It can be challenging to defend yourself against theft crimes if you don't have a legal background, but it's even more difficult to fight the charges when firearms are involved. You may face felony counts instead of a misdemeanor, and weapons enhancements mean serious penalties. With a skilled criminal lawyer on your side, you can develop a defense strategy aimed to obtain the best possible outcome. For more information on theft crimes, especially those involving guns, please contact the Fort Lauderdale office of attorney Kevin J. Kulik. Our legal team handles all types of criminal defense matters, and we can tell you more about your options.
Resource:
clickorlando.com/news/teens-try-to-loot-guns-from-orlando-sports-store-during-irma-police-say