Florida Teen Arrested for Criminal Solicitation of Murder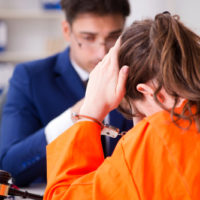 A 17-year-old girl found out the hard way that you don't have to be wielding a weapon to be charged with homicide in Florida, after being arrested on murder-for-hire charges by Lake County Sheriff's deputies. A September 10, 2019 article published by Orlando's Spectrum News Channel 13 outlined the details of the suspect's plot to kill her parents, which were related to police by her boyfriend. According to police, the girl withdrew more than $1,400 from her parents' bank accounts as hit money, which she then offered to two other teens as payment.
The outlook in the defendant's case looks grim, as she admitted to allegations of criminal solicitation – and her parents intend to pursue the case to the fullest extent of the law. However, don't let her circumstances convince you that you have no options. If you've been arrested for similar charges, you can trust a Florida homicide lawyer to defend your interests, especially since murder-for-hire cases can be very difficult for the prosecution to prove.
Description of Soliciting Murder: The notion of charging someone for soliciting any type of crime, including murder, comes from Florida's definition of a "principal in the first degree." The statute provides that a person who is linked to the commission of an offense can be charged, convicted, and sentenced – even if that individual is not present at the scene. This could include anyone who aids, assists, counsels; the language specifically includes a person who hires another to commit the offense.
The statute goes on to describe solicitation, which could lead to an arrest if you command or encourage an individual to commit an offense. In other words, no money need to change hands or even be promised to constitute solicitation.
Penalties for a Criminal Solicitation Conviction: Though you're treated for the most part as if you committed the crime yourself, there are some variations when it comes to punishment. The law applies for purposes of ranking in the sentencing process. For instance, criminal solicitation is ranked one level below the offense that was solicited. However:
If the solicitation is for a capital felony, the punishment will be for a First Degree Felony;
Where the crime is a First Degree Felony, you'll be punished for a Second Degree Felony; and,
If the underlying crime is a Second Degree Felony or other designated offenses, Third Degree Felony penalties apply.
Defenses to Solicitation Charges: There are multiple ways to attack the prosecutor's case-in-chief, especially since an agreement of some sort is necessary between you and the person you solicit to commit the crime. In addition, if you try to convince the individual to NOT commit the crime or engage in efforts to prevent it.
Count on a Florida Homicide Defense Attorney to Fight for Your Rights
Cases involving criminal solicitation of murder are an excellent example of why it's essential to retain an experienced lawyer to represent your interests in court. To learn more about defense options, please contact Fort Lauderdale homicide attorney Kevin J. Kulik to set up a free consultation at our office. Our team can provide more information after reviewing the details of your case.
Resource:
mynews13.com/fl/orlando/crime/2019/09/10/lake-county-teen-accused-of-paying-two-people-to-kill-her-parents
https://www.kevinkuliklaw.com/objections-you-may-hear-in-a-florida-criminal-case/