Identity Stolen From Florida Man Leads To Social Security Fraud Charges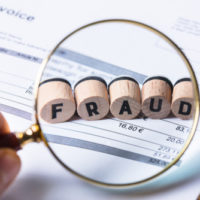 Officials finally caught up with a 66-year-old man with a stolen identity who collected approximately $361,000 in Social Security and other government benefits over the past four decades. The perpetrator assumed the identity of a Florida man back in 1989, according to a March 5, 2018 article appearing in the Tampa Bay Times. Authorities were tipped off in 2014, and the international investigation took them from Mexico to California before they were able to make an arrest in November 2017. Though the man reached a plea agreement requiring him to pay back the government benefits he fraudulently obtained, he still faces up to 12 years in federal prison and a maximum fine of $972,000. Social Security fraud is a federal crime that takes many forms, so there are multiple schemes that could lead to an arrest.
False Statements or Misrepresentations
When you apply for Social Security benefits, you are required to supply accurate, truthful information. Failure to do so, such as saying you make no income where you do, is fraudulent.
Misuse of Benefits by Representative 
In some cases, a person entitled to benefits needs a personal representative to apply for, collect, and deposit the funds. It is fraud for the agent to take the money and use it for himself or herself, or for unintended purposes.
Fraud Related to Social Security Administration (SSA) Employees
If you impersonate an SSA employee to obtain a person's benefits, other funds, or identity, you can be charged with Social Security fraud. This conduct is a crime whether it takes place over the internet, on the phone, or in person. Even requesting a person to supply their Social Security number, date of birth, or other identifying information can be fraudulent.
In addition, you can be arrested for fraud if you attempt to bribe an SSA employee, offering something of value in exchange for Social Security related services or benefits.
Fraud as an SSA Employee
Those that work for the SSA can engage in various forms of misconduct that amounts to fraud, such as:
Misappropriate Social Security funds for your own purposes;
Stealing cards and selling them for profit;
Taking identification information and using it for identity theft purposes;
Violations of SSA standards of conduct, which include ethics rules and federal regulations regarding on-the-job wrongdoing.
Social Security and Workers' Compensation Benefits
 It is fraud to double-dip if you are collecting benefits for disability. Therefore, if you are receiving workers' comp funds for a work-related disability, you must inform the SSA. People often engage in this scheme because they know Social Security benefits will be reduced if they collect under state workers' compensation laws.
Rely on a Knowledgeable Florida Criminal Defense Lawyer
 There are many other schemes that amount to Social Security fraud but, generally, you could be charged anytime you make a false statement or conceal information. Federal crimes are serious matters and these cases can be significantly more complicated than offenses under Florida law. You need a skilled attorney that has experience in federal court, so please contact Fort Lauderdale, FL attorney Kevin J. Kulik about your circumstances. We can schedule a consultation to discuss a defense strategy.
Resource:
tampabay.com/news/publicsafety/crime/A-man-in-the-US-illegally-stole-the-identity-of-a-Florida-man-to-collect-nearly-361-000-in-government-benefits_166086783