Is it a Crime to Drive Without Auto Insurance in Florida?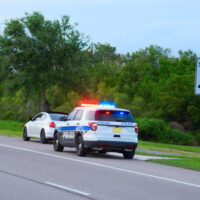 All US states require motorists to carry auto insurance to cover the losses of car accident victims, and Florida's statute on insurance and proof of insurance covers the details. If you are pulled over by police and do not have the proper coverage and/or documentation, you could suffer the consequences. There are consequences for your wallet and freedom to get around for work or personal errands, since you face fines and your driver's license could be suspended. Plus, aside from it being unlawful to drive without insurance, the implications are severe if you are involved in an auto crash.
However, you probably have the same important question as many other drivers regarding the legal requirements: "Is it a crime to drive without auto insurance in Florida?" A Broward County traffic violations defense lawyer can provide you with a definite answer based upon your circumstances, but some background information may be useful.
Auto Insurance Requirements in Florida: The Florida Department of Highway Safety and Motor Vehicles (FLHSMV) establishes the amounts of insurance coverage that motorists must carry. You are required to purchase $10,000 for Personal Injury Protection (PIP), as well as bodily injury coverage at $10,000 per person and $20,000 bodily injury per accident.
In addition to carrying these auto insurance amounts, you must also have proof that you have the proper insurance coverage. As such, there are two potential violations of the law:
Not having an insurance policy in effect when pulled over by police; and,
Not having documentary proof of your insurance coverage when offices request to see it.
Penalties for Driving Without Insurance in Florida: For the most part, operating an uninsured vehicle is not a criminal offense; it is an administrative violation that still carries considerable penalties. For instance:
Driving without insurance is a nonmoving traffic infraction that can lead to a three-year driver's license suspension.
You will not be eligible for a temporary or hardship license during the period of your suspension.
After your suspension period is over, you will need to pay to reinstate your driving privileges. A first offense is $150, but your driver's license reinstatement could cost $250 to $500 for second and subsequent violations.
Note that FLHSMV does receive information from your insurance company when your policy expires or lapses, so your license suspension is typically handled via mail.
When Driving Without Insurance is a Crime: You could face criminal charges by presenting proof of insurance that you know is NOT currently in force and effective. At this point, your conduct becomes a First Degree Misdemeanor. If convicted, you could be sentenced to a year in jail, a $1,000 fine, and other penalties.
Contact a Florida Criminal Defense Lawyer Regarding Your Legal Options
Even if you are not facing criminal charges for driving without insurance in Florida, you can still benefit from consulting with experienced legal counsel about your situation. To learn more about how our team can assist, please contact Fort Lauderdale criminal defense attorney Kevin J. Kulik to set up a consultation at our office.
https://www.kevinkuliklaw.com/your-guide-to-handling-encounters-with-florida-police/