Miami, FL Adjuster Busted On Bribery, Insurance Fraud Charges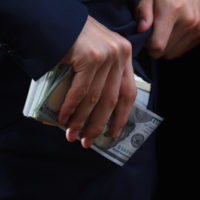 With help from a high-ranking insurance claims adjuster, Miami-Dade police finally had enough evidence to make recent arrests against four people accused of multiple charges, including insurance fraud. In a March 30, 2018 article, the Miami Herald reported on the case that took many twists and turns in the last few years. It started in 2015, when the claims adjuster was himself busted for taking illegal kickbacks from insurance policyholders. He was able to seal and expunge his criminal record in exchange for cooperation in pursuing criminal charges against those paying him the unlawful funds. Florida insurance fraud cases can be very complicated, so it is wise to consult with an experienced attorney to defend the charges. However, an overview of the law and how it applies in the recent Miami case may help you understand how they work.
Details of the Insurance Fraud Scheme
According to allegations within the official police documents, the insurance fraud charges stem from different types of criminal activity.
One couple submitted an insurance claim that contained false statement regarding the extent of the losses and causes.
Another defendant is a private adjuster who made a deal with the informant to pay a percentage for referrals to his insurance business.
A home restoration specialist was also involved with the scheme, where he would provide false receipts in connection with insurance claims to increase the amount of compensation.                                                              Elements of an Insurance Fraud Case
While the details of each case vary, there are certain facts that a prosecutor must prove beyond a reasonable doubt to secure a conviction, including:
You filed a claim with an insurance company; and,
The claim was false, made misrepresentations as to the nature of the loss, due to a deliberate action, or otherwise unlawful.
Note that you can also be charged with insurance fraud if you make false or misleading statements when applying for coverage with an insurance company.
Penalties and Sentencing
A person convicted for insurance fraud may be sentenced to different penalties depending on the circumstances, usually based upon the value of the claim.  Therefore:
Insurance fraud is a third-degree felony when the amount is less than $20,000. You face up to five years in jail and a $5,000 fine;
Fraud ranging from $20,000 to $100,000 is a second-degree felony punishable by up to 15 years incarceration and a $10,000 fine; and,
An insurance fraud charge involving more than $100,000 is a first-degree felony, which means up to 30 years in prison and a fine up to $10,000.
There are additional sanctions for individuals in certain professions, including lawyers, healthcare providers, and others. You could lose your state-issued license on top of fines, probation, and prison time.
A Knowledgeable Florida Fraud Defense Lawyer Can Assist with Your Case
There are defenses to insurance fraud, which may weaken the prosecutor's case against you or serve to dismiss the charges entirely. It is important to discuss your case with an experienced criminal defense attorney, so please contact Fort Lauderdale attorney Kevin J. Kulik to schedule a consultation regarding your legal options.
Resource:
miamiherald.com/news/local/crime/article207492209.html