No Hate Crimes Charges In Boca Raton, FL Student Fight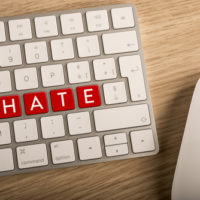 The Palm Beach County Sheriff's Office is taking a closer look at a physical altercation involving high school students in Boca Raton, FL, especially after a video of the fight went viral on various social media sites. A December 22, 2017 report in the Palm Beach Post indicates that officials are continuing their investigation, but preliminary facts show that two female students from different high schools agreed to meet regarding an unresolved dispute; a police spokesperson stated that the pair were fighting over romantic interest in a boy. In the video, one girl attacks the other and forced her to the ground, at which point other members of the crowd got involved. There is a brief lull when the altercation was interrupted by another individual, but the pair got back to fighting quickly thereafter. The audio is not clear, other than incoherent screams and a call to "pull her hair."
Because the victim is of Muslim background, social media exploded with calls for authorities to charge the perpetrator with a hate crime. However, unless additional evidence surfaces, the offense is more likely to be charged as an assault crime in Florida. Hate crimes require certain types of proof, so it is important to understand how these cases work under state law.
Intent Behind Florida's Hate Crimes Statute
 State lawmakers passed the first hate crime statute back in 1989, as they realized that criminal offenses motivated by bias against certain classes of people were more harmful to society as a whole. The law did not create a separate category of criminal activity, but implemented a structure of enhanced penalties where prosecuting attorneys could present evidence showing that the accused was prompted by hate.
Evidence of a Hate Crime
 If there is any detail or fact that demonstrates an offender is motivated by issues other than those defined by statute, it is unlikely that hate crimes charges apply. Florida requires specific proof that the crime is on account of the victim's:
Ethnicity or nationality;
Race, color, or ancestry;
Religious affiliation;
Sexual orientation;
Position as a homeless person; or,
Age.
In the case of the Boca Raton, FL fight, there are several details revealing that the two students' dispute was over romantic interest in a boy – not the Muslim girl's background. The police investigation continues, but the current facts do not support an arrest for a hate crime.
Penalties for Hate Crimes
 When a prosecutor is successful in convicting a person of a hate crime, the charges are elevated and the penalties are enhanced. Therefore:
All misdemeanors move up a notch;
A First Degree Misdemeanor is reclassified to a Third Degree Felony;
All felonies move up a degree; and,
A First Degree Felony becomes a life felony, which means a potential for life in prison.
Consult with a Florida Criminal Defense Attorney
 If you are charged with any type of assault or hate crime, you need a skilled criminal defense lawyer to represent your interests. For more information or to schedule a consultation, please contact Fort Lauderdale attorney Kevin J. Kulik.
Resource:
palmbeachpost.com/news/crime–law/new-pbso-investigates-viral-video-fight-between-high-school-students/76EehrALNP7JHrrImng1NP/