Pinellas County, FL Man Faces Charges on Resisting Arrest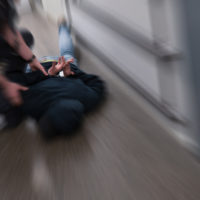 Unwise social media usage is rampant, but some individuals haven't learned how their posts, pictures, and videos can land them in big criminal trouble. Such is the situation for a Pinellas County, FL man who live streamed his crimes from a Walgreens. According to a May 16, 2019 report from ABC Action News affiliate WFTS in Tampa Bay, the suspect went into the store to make a purchase and became belligerent when he didn't have the money to pay. Management asked him to leave, at which point he began throwing items off the shelves. When police arrived to arrest the man, he interfered with their efforts, leading to charges for resisting arrest and battery to a police officer.
A Florida criminal defense attorney can provide specific information on resisting arrest, but a synopsis of the laws may be helpful.
Overview of Resisting Arrest Crimes: Resistance is defined as any action that obstructs, opposes, or otherwise interferes with a law enforcement officer's efforts during the execution of a legal duty, including an arrest. There are two separate versions of the crime, with and without violence. The nature of the crime means it's usually tacked on to some other charge, as the offense occurs while the officer is arresting you for something else.
Elements the Prosecution Must Prove: There are four elements that a prosecutor must prove, beyond a reasonable doubt, to secure a conviction for resisting arrest:
You interfered with a law enforcement officer;
The officer was executing a legal duty or acting to execute a legal process;
The officer was acting within his or her legal authority when engaging in such efforts; and,
You knew that the officer was executing a legal duty and had legal authority, but you still resisted or interfered with his or her actions.
There are many types of actions that could constitute interference that rises to the level of resisting arrest. Examples include:
Tensing your arms or other acts to avoid being handcuffed;
Refusing to comply with the officer's verbal instructions;
Providing false information during a lawful arrest, such a giving a fake name or identification;
Refusing to leave an area when requested by an officer; or,
Other acts of obstruction.
Penalties for Resisting Arrest: As mentioned, there are two types of unlawful resistance, so the criminal sanctions for a conviction are different:
Resisting arrest without violence is a First Degree Misdemeanor. If you're convicted, a judge may sentence
When you resort to violence as part of your efforts to interfere with an arrest, the crime is a Third Degree Felony. You could be sentenced to five years' incarceration and a fine up to $5,000. 
Consult with a Florida Criminal Defense Lawyer About Your Case 
If you were charged with resisting arrest, you'll need an experienced attorney to defend you against the crime – as well as any other associated criminal activity. To learn more about your defense options, please contact Fort Lauderdale criminal attorney Kevin J. Kulik. We can set up a confidential consultation at our Fort Lauderdale office to review your case in more detail.
Resource:
abcactionnews.com/news/region-pinellas/florida-man-arrested-as-he-live-streams-his-own-crime-hits-baby-in-head