Search Still on for Leader of Operation Shady Lane Heroin Trafficking Ring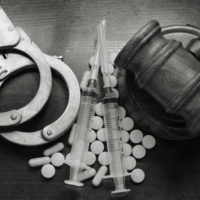 The primary suspect in the Operation Shady Lane heroin trafficking ring remains at-large and police are asking for the public's assistance in finding him, according to an August 24, 2017 report in the Northwest Florida Daily News. The Okaloosa County Sheriff's Office placed the man on the wanted list and issued a warrant for his arrest, as one of a total of 36 suspects involved with the illegal operation. Many of the charges against the suspect are drug crimes under Florida law, including counts related to heroin trafficking. If you're facing similar charges, it's important to understand what trafficking is and what criminal penalties may be included as part of your sentence if convicted.
Definition of Trafficking in Heroin
It's a felony to be in possession of any amount of heroin because the drug is a Schedule I controlled substance, which means Florida law considers it to have a high potential for abuse; it also has no currently accepted use for medical purposes.
Like other drug crimes in Florida, heroin crosses over from possession into trafficking based upon the amount: Any quantity over four grams will be prosecuted as trafficking. Note that the weight is not based upon how much pure heroin may be found in a mixture, but how much the mixture itself weights. You could be charged with trafficking even if the actual amount of pure heroin is less than four grams.
Penalties for Heroin Trafficking in Florida
Mandatory minimum penalties apply when you're charged with heroin trafficking:
4-14 grams of heroin: Minimum three years in prison and a fine up to $50,000;
14-28 grams of heroin: Mandatory minimum 15 years' incarceration and a fine up to $100,000;
28 grams to 30 kilograms of heroin: A minimum prison sentence of 25 years, plus a maximum fine of $500,000; and,
30 kilograms or more of heroin: Life in prison, with a fine up to $500,000
Keep in mind that these are mandatory minimums. A judge has the discretion to issue a tougher sentence based upon the circumstances. For any amount of heroin trafficking under 30 kilograms, the maximum prison sentence is 30 years.
Other Penalties
Any conviction for heroin trafficking also impacts your driving privileges, as your license will be revoked for one year. In addition, if you have any professional or trade licenses, these are subject to immediate suspension.
Trust a Knowledgeable Florida Drug Crimes Lawyer with Your Defense 
You may think that your options are limited for defending against drug crimes in Florida, especially trafficking in controlled substances like heroin. However, you should always keep in mind that a prosecuting attorney must prove all elements of the crime beyond a reasonable doubt. There are multiple opportunities to fight the charges and present a strong defense, and a criminal defense attorney can help you develop a strategy. For more information on fighting the allegations against you, please contact the Fort Lauderdale office of Kevin J. Kulik. Our legal team can answer your questions and schedule a free, confidential consultation to discuss your case.
Resource:
nwfdailynews.com/news/20170824/operation-shady-lane-ringleader-remains-on-wanted-list