Second Degree Murder Conviction For Palm Bay, FL Man Who Killed Girlfriend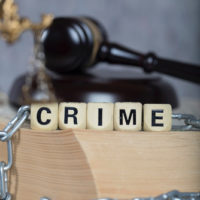 A Brevard County jury returned a verdict of guilty in the case of a 24-year-old Palm Bay, FL man who was charged with Second Degree Murder in the 2014 death of his girlfriend. According to a February 12, 2018 article in Florida Today, witnesses saw the pair arguing while out with friends and the hostilities escalated when they got back to their apartment later that same evening. The couple's roommate entered a bedroom upon hearing a physical struggle, when he opened the door to find the man standing over the woman's body and punching her. An autopsy report determined that the victim died from blunt force trauma to the head in the domestic dispute, leading to the man's arrest.
Second Degree Murder charges are a step below premeditated homicide, but these cases are still complicated and the penalties are severe. It is wise to retain a knowledgeable Florida homicide defense lawyer to fight for your rights, as well as review some general information.
Depraved Mind Homicide
 The Florida criminal statute refers to Second Degree Murder as a homicide where the offender acts with a depraved mind and without regard to human life. The premeditation element is not required, so many times these incidents occur in the heat of the moment. Fights between strangers or domestic disputes where someone dies are common cases of Second Degree Murder, because there is no plan or intent to kill.
Accomplice Felony Murder
 Another type of Second Degree Murder occurs when a person acts as an accomplice to another offender, who kills an individual while engaging in felony criminal conduct. The charge of Accomplice Felony Murder applies regardless of intent to kill, but only certain offenses listed by the statute are included, such as:
Aggravated abuse of a child, elderly person, or disabled adult;
Arson;
Burglary;
Carjacking;
Kidnapping;
Sexual battery;
Terrorism; and,
Many others.
Second Degree Murder Penalties
As a First Degree Felony, you may be punished by up to life in prison, life on probation, and a maximum $10,000 fine if convicted. Second Degree Murder falls under Florida's mandatory minimum sentencing laws, so the minimum sentence that a judge may issue is 16 years, 9 months incarceration. A downward departure sentence may apply in the presence of certain mitigating circumstances.
In addition, Second Degree Murder is a 10-20-Life crime if an offender uses a firearm in commission of the crime. Again, there is a mandatory minimum sentence for a conviction, but it is increased when a gun is involved. A court must issue a minimum sentence of 25 years in prison.
Trust an Experienced Florida Criminal Defense Attorney
If you are facing charges of Second Degree Murder, you cannot put your rights and freedom at risk by attempting to represent yourself. By working with a skilled attorney, you can develop a strong strategy to attack weaknesses in the case against you, contest the allegations, and present the best possible defense to the charges. Please contact the Fort Lauderdale offices of attorney Kevin J. Kulik to schedule a confidential consultation right away.
Resource:
floridatoday.com/story/news/crime/2018/02/12/josiah-hadley-guilty-2014-death-girlfriend/328726002/