Seminole, FL Man Arrested For Burglary, Arson In Home Invasion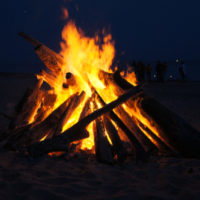 A Seminole, FL man faces several charges after he allegedly broke into a home, started a fire, and stole several items, including the family dog. According to an April 19, 2018 article appearing in the Tampa Bay Times, the homeowner called 911 upon discovering the break in when he arrived home from work. Deputies from the Pinellas County Sheriff's Office arrived on the scene and extinguished the flames, at which point the homeowner also reported that the family dog was missing. Investigators were tipped off regarding this suspect when they reviewed surveillance camera footage, which showed an individual knocking on the front door before heading around to the backyard. An hour later, the same man was walking down the driveway toting luggage. Deputies later recognized the suspect and arrested him at his home.
While the fire was minor, no one was hurt, and the dog turned up shortly after the incident, the suspect was charged with several crimes. In this particular case, the most serious offense is arson, which is a felony that carries severe penalties under Florida law.
Definitions and Factors in Florida Arson Cases
The crime of arson occurs when a person uses tools or instruments to set a fire or engage explosive materials, to intentionally and illegally cause damage to a dwelling or structure. The distinction between these two types of building is crucial.
The term "structure" is very broad and can include almost any improvement to real estate, such as an enclosed area with a roof, any appurtenances, a tent, or a portable building. Structures may even include vehicles, aircraft, or watercraft.
A dwelling is a specific type of structure defined as a place that is occupied by one or more persons, or a site where people are commonly present.
Penalties for Arson
 Arson is always a felony under Florida law, but it is charged as either First or Second Degree Felony depending on the circumstances. Here, the difference between a dwelling and a structure is key:
First Degree Arson charges apply when an individual ignites a fire to a dwelling or its contents or to certain types of structures, including:

Buildings where people normally congregate or gather during normal business hours, such as correctional facilities, hospitals, nursing homes, stores, office buildings, businesses, churches, or schools; or,
Any other structure where the suspect knew or had reasonable grounds to believe was occupied by people.
A conviction for First Degree Arson requires a judge to sentence you to a mandatory minimum of 21 months in prison; however, you could be sentenced up to 30 years incarceration and a $10,000 fine.
Second Degree Arson is the crime of setting fire to any other type of material, structure, or abandoned building that does not fall under the prohibitions of the statute on First Degree Arson.
For a conviction on Second Degree Arson, you could face up to 15 years in prison or on probation, plus a maximum fine of $1,000. Florida's mandatory minimum sentencing applies to these charges as well, so a judge must order at least 21 months in prison.
Work with a Knowledgeable Florida Criminal Defense Lawyer
If you were arrested on arson charges, please contact Fort Lauderdale, FL criminal defense attorney Kevin J. Kulik. We can schedule a confidential consultation to review the details of your case and discuss defense strategies.
Resource:
tampabay.com/news/publicsafety/crime/Deputies-Man-broke-into-house-set-it-on-fire-and-stole-their-dog_167476251