Suspect Sought in Southwest Florida Armed Robbery Case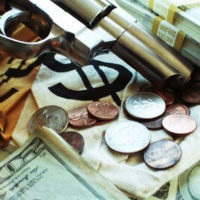 Southwest Florida Crime Stoppers is seeking help from the public to identify and apprehend a man who robbed at drug store in Lehigh Acres at gunpoint in the early morning hours of June 1, 2017. The Lehigh Acres Citizen reports that the man entered the store and exhibited a gun, then demanded that the clerk empty all cash register cash into a backpack. After the clerk did so, the suspect fled on foot. The Crime Stoppers post includes a description of the suspect and of the firearm he was carrying, which was a black and grey semi-automatic handgun. Under the circumstances there are different Florida theft crimes and weapons charges the suspect may face, as well as a potential weapons enhancement.
Potential Charges for Suspect

The accused may be charged with multiple crimes under the circumstances:
Theft: In general, theft is taking the property of another without permission. When the item was taken by force or threat of force – as in the case of the Lehigh Acres incident – the crime is robbery.
Carrying a Concealed Firearm: It's a violation of Florida law to knowingly carry a firearm that is concealed out-of-sight of other people. However, if you have a permit to carry a concealed firearm, this would be a defense to the crime.
Improper Exhibition of a Firearm: When a person shows off a gun to another person in a manner that's threatening, angry, or careless, the charge would be improper exhibits – often referred to as "brandishing" a firearm.

Weapons Crimes Versus Enhancements

Certain offenses involving firearms are crimes because of the presence of the gun. They are separate crimes solely based upon the improper possession, purchase, or usage of the gun.
A weapons enhancement is a crime that's based upon how the offender was using the gun in connection with another crime. Enhancements may increase the penalties for the underlying offense, tacking on additional years to a jail term or probation, or adding to the potential fine.
Mandatory Minimum for Enhancements

Some weapons enhancements trigger Florida's 10-20-Life mandatory minimums law. When a firearm is used in the commission of a crime, such as robbery or other violent crimes, a judge must impose a minimum sentence.
Carrying a firearm is a 10-year minimum sentence;
Discharging a gun is a minimum of 20 years in prison; and,
Shooting or killing a person is 25 years or life in prison.
A Qualified Florida Criminal Lawyer Can Tell You About Options for Your Defense

Theft crimes already carry significant penalties under Florida law, but these cases can be further complicated when there's a firearm involved. Additional charges for using a gun and a weapons enhancement may increase the jail time, fines, probation, and other punishment. Mandatory minimum sentencing may also eliminate the possibility of a lesser sentence. If you're facing complex theft and firearms charges, you need an experienced criminal defense lawyer on your side to protect your legal rights. Attorney Kevin J. Kulik has extensive experience representing clients in all types of crimes under Florida and federal law, and can help you understand the options for your defense. Please contact our Fort Lauderdale office today with questions or to set up a confidential consultation.
Resource:
lehighacrescitizen.com/page/content.detail/id/540411/Suspect-sought-in-early-morning-robbery.html?nav=5095