Theft Crimes in Florida: What's the Difference?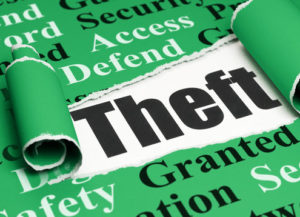 The story sounds like something out of a comedy: A man was busted with a theft crime as he was riding his bicycle in a Florida neighborhood. The item in question was a milk crate he had attached to his bike for carrying groceries and other shopping purchases. The man claimed he found the crate, bearing the name Sunshine State Dairy Farms, on the side of the road. Polk County's WFLA News Channel 8 reported the offense as possession of stolen property, considered a theft crime in the state. There are several other offenses that fall under the umbrella of theft crimes in Florida, depending on the circumstances. A criminal defense attorney can tell you how these different laws might apply in your case if you're facing similar charges.

General Definition of Theft Crimes
The legal term "theft" refers to a number of crimes involving an unauthorized taking of property. Larceny, misappropriate, conversion, burglary, robbery, and other offenses are included under the umbrella of theft. A prosecutor must prove certain facts in order to obtain a conviction for a theft crime:
Intent to take or use another person's property;
The intent to deprive the proper owner of the time, either temporarily or permanently; and,
The criminal intent existed at the time the defendant took the item.

Florida Penal Code on Various Theft Crimes
In Florida, the law makes a distinction between petit and grand theft, based upon the value and type of the property.
Item is valued at less than $100 = Petit theft as a second degree misdemeanor. Penalties include a prison term of maximum 60 days and fine up to $500.
Item is valued at $100-$300 = Petit theft as a first degree misdemeanor. Sentencing may be up to one year in prison and a fine up to $1,000.
A theft may be elevated to a grand theft as a third or second degree felony under some circumstances.
Items taken from a home valued at $100-$300;
Property valued between $20,000 and $100,000 taken from another location;
A fire extinguisher;
Property taken from a construction site; and,
A controlled substance, among many others.

These types of theft carry a criminal penalty up to 30 years in prison and a maximum fine of $10,000.
Civil Penalties for Theft Crimes
Besides the criminal penalties of jail time and fines, your driver's license may be suspended if you're convicted of a theft crime in Florida. Your chances of a theft offense impacted your driving privileges increases if you have a prior criminal history. The suspension can be anywhere between six months to a year. In addition, your civil penalty may include compensating the victim for the damage caused.

A Fort Lauderdale Criminal Defense Attorney Can Help

If you have been charged with any of the theft crimes defined under Florida law, it's critical to retain a qualified criminal defense attorney to represent you in the proceedings. You could be facing severe criminal and civil penalties unless you have a knowledgeable lawyer to protect your rights. A lawyer with experience in criminal matters can help you work through the complex court process to get the best possible outcome. Please contact Fort Lauderdale criminal defense lawyer Kevin J. Kulik today to schedule a consultation or with questions about your case.
Resource:
wfla.com/2016/09/30/polk-county-man-arrested-for-having-milk-crate/