Two Florida Police Officers Shot, Suspect Will Face Enhanced Penalties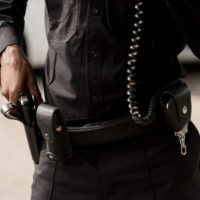 The Gilchrist County Sheriff's Office is mourning the loss of two deputies that were shot and killed April 19, 2018 while having lunch in a Chinese restaurant. The Orlando Sentinel reported that the pair were sitting at a table in the establishment when the gunman approached, fired shots, and then fled outside. Fellow deputies immediately responded to the scene of the crime, but both victims were pronounced dead. As condolences poured in from sheriff's departments and government agencies throughout Florida, officials announced they would continue their efforts to determine a motive for the shootings.
Charges of violent crimes against law enforcement and people holding similar positions are extremely severe, with enhancements that could put you behind bars for life. While you should discuss the specifics of your case with an experienced Florida criminal defense attorney, some general information may be useful.
Overview of Crimes Against Law Enforcement
You may be charged with Battery on a Police Officer if you intentionally strike an officer, knowing that person is in law enforcement, and he or she was engaged in lawful performance of duties as an officer at the time. As a Third Degree Felony, you face up to five years in prison, on probation, or both; plus, you could be fined up to $5,000. Note that if the crime is an Aggravated Battery involving a police officer, the offense falls under Florida's mandatory minimum sentencing. A judge must sentence you to prison for five years.
If the charges of violence against a police officer include different degrees of murder or attempted murder, you face life imprisonment without the possibility of release.
Law Enforcement Definition
 By statute, there are many individuals that are included in the definition of "law enforcement" and related professions. Therefore, besides police officers, you could be charged for committing a violent crime against:
Correctional officers;
Traffic and parking enforcement police;
Part-time law enforcement officers;
Auxiliary correctional or law enforcement officers;
Probation officers;
Federal law enforcement;
Fishing and Wildlife Conservation officers; and,
Certain public servants, including fire department personnel, EMTs, public transit operators and drivers, college security officers, and others.
 Special Considerations in Law Enforcement Cases
 There are two caveats in the elements of the crime that a prosecutor must prove beyond a reasonable doubt, which could serve as a defense in your case.
The law requires that you knew the person was a law enforcement officer or other protected individual. If the victim was working undercover or in a situation where you did not know the official position, this is a weakness in the case against you.
Even if the person falls under the definition of law enforcement, he or she must be engaged in the lawful duties of employment to support a conviction.
Get Legal Help from a Knowledgeable Florida Criminal Defense Lawyer
If you are accused of crimes involving law enforcement officers, it is critical to retain an experienced criminal defense attorney. Prosecutors aggressively go after those who engage in violence against police, so you need counsel that will meet their efforts with equal dedication to your rights. Please contact Fort Lauderdale, FL attorney Kevin J. Kulik for more information or to schedule a free consultation.
Resource:
orlandosentinel.com/news/breaking-news/os-florida-deputies-killed-gilchrist-county-20180419-story.html