What Is the Veterans Treatment Court in Florida?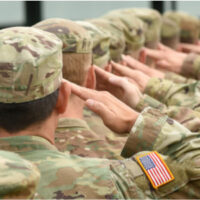 If you've been convicted of a crime in Florida, you probably assume that your sentence will include the typical sanctions of the traditional criminal justice system: Jail time, fines, probation, community service, and other punishment. However, if you're a military veteran and meet some basic eligibility rules, you may be able to work out a nontraditional arrangement through the Veterans Treatment Courts in Florida. As of March 2019, there were 31 such tribunals operating within the state, including in Broward, Miami-Dade, and other South Florida counties.
In general, Veterans Treatment Court is an alternative to criminal prosecution that focuses on treating underlying issues that have a unique impact on former members of the military. However, there are numerous complications in the process that you should entrust to a Florida criminal defense lawyer. Some background information may also be useful.
Overview of Proceedings in Veterans Treatment Court: The process is intended to serve the specialized needs of criminal defendants who are or were in the military, as they face exceptional challenges after enduring traumatic experiences. Many veterans suffer from substance abuse or mental health issues, such as post-traumatic stress disorder (PTSD) or traumatic brain injury (TBI). When they're unable to adjust to life after serving their country, some may turn to crime.
Veterans Treatment Court is a program that incorporates elements of substance abuse treatment along with supervision to ensure the individual stays on the right track. The objectives of the process are:
Reducing recidivism among veterans;
Encouraging positive health and well-being through sobriety;
Protecting public safety;
Enhancing quality of life; and,
Improving the individual's access to benefits and services provided by the Veterans' Administration.
If you qualify, you may be within the Veterans Treatment Court system from six months to two years – an arrangement that's similar in some ways to probation. You'll need to pay fees, avoid criminal activity, attend substance abuse counseling, and comply with many other requirements. If you complete the program, the judge may either reduce the charges or dismiss your case entirely. Failure to follow the rules imposed by the court could mean your case goes back to the traditional criminal court process.
Eligibility for Veterans Treatment Court: You only qualify for the program if you're a current member of the military or served with the US armed forces in the past. In addition, eligibility also depends on the nature of the charges you're facing, as some violent felonies or drug crimes will disqualify you. You must formally request to participate in Veterans Treatment Court, which you and your attorney would handle during the pre-trial process. The judge must approve the request, after reviewing the details of your case.
Trust a Florida Criminal Defense Attorney to Advocate on Your Behalf
Veterans Treatment Court offers multiple benefits to members of the military who have difficulties returning to their community and coping with hardship after their period of service has ended. Still, there's no guarantee that you can take advantage of this alternative to criminal prosecution, so it's important to have a qualified lawyer on your side. To learn more about your options, please contact Fort Lauderdale criminal attorney Kevin J. Kulik to schedule a confidential consultation at our office.
Resource:
flcourts.org/Resources-Services/Court-Improvement/Problem-Solving-Courts/Veterans-Courts
https://www.kevinkuliklaw.com/objections-you-may-hear-in-a-florida-criminal-case/