Dos and Don'ts in Court Before You Retain a Florida Criminal Defense Lawyer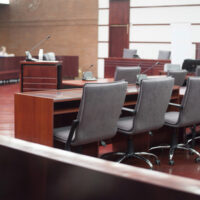 After you were arrested and detained in a criminal case, Florida's Criminal Procedure Rules require that you be taken before the court within 24 hours. There are multiple proceedings that occur at this first appearance, such as:
The judge will read the official charges;
You will receive a copy of relevant documents;
The judge tells you that you have the right to remain silent; and,
You will be informed of your right to a lawyer to represent you.
During the hearing, you might find yourself in a conundrum: You would like to hire your own Florida criminal defense attorney, but have not yet retained one. Since you know that you put your rights at risk by representing yourself, you probably have serious misgivings about the proceeding. Fortunately, with a few tips on dos and don'ts, you can get through the first appearance without a lawyer – and with your rights intact.
DO Dress Appropriately. A criminal case is a serious matter, so make sure you make the best possible impression when heading to your first court appearance. Dress in similar fashion as you would if you were going for a job interview or other professional setting. A suit is perfect for men and women, but nice slacks, a skirt, and tidy shirt will also suffice.
DON'T Be Late to Court. Make sure to allow plenty of time to get to the courthouse, since you will need to park, go through security, find the right courtroom, and be seated. Judges view lateness negatively, so you do not want to get off on the wrong foot by being late. Plan to arrive at least 20-30 minutes before the proceedings begin.
DO Check in with the Clerk. There will be a court clerk seated somewhere near the bench, and this person's job is to check people in, confirm the case, and other administrative tasks. When you arrive, approach the clerk with your documentation for check-in. The judge will know that you are present and ready to address the court. Avoid discussing the details of your case with the clerk, as they are not attorneys and will not give out legal information.
DON'T Zone Out. When seated in the gallery and waiting for your case to be called, pay close attention to what happens for each case that goes before you. You will learn a lot about what to say and do, so you have some guidance when it is your turn.
DO Request More Time. You will have the opportunity to address the court, so ask the judge for additional time to get a lawyer. It is tough to enter a plea, work out bail, and deal with other details on your own, and you have the right to an attorney to handle them for you.
Call a Florida Criminal Defense Lawyer ASAP 
Since you requested more time, take action right away to get in touch with experienced legal counsel to protect your rights going forward. For more information on how our team can assist with a Florida criminal matter, please contact Fort Lauderdale criminal attorney Kevin J. Kulik. We can set up a consultation and get up to speed on your case before the next court hearing.
https://www.kevinkuliklaw.com/get-florida-criminal-charges-dismissed-at-the-preliminary-hearing/