SCOTUS Case Update on Traffic Stops and Your Civil Rights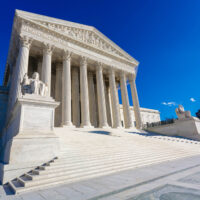 Another landmark criminal case has made its way through the judicial process in the US, as the Supreme Court of the United States (SCOTUS) answered some controversial questions through its decision in Kansas v. Glover. The key inquiry involves how far police may go in conducting investigations pursuant to traffic stops, specifically with respect to a person driving on a suspended or revoked driver's license. The SCOTUS' opinion generally favors law enforcement regarding the issue, so there are significant implications for motorists now that it is the law of the land.
Constitutional issues always add a layer of complexity to any criminal case, which is why it is essential to rely on a Florida criminal defense attorney if you were arrested under circumstances indicating a violation of your civil rights.
Factual Summary and Procedural History: In April 2016, Kansas police were conducting routine traffic monitoring when they observed a vehicle driven by Charles Glover, Jr. Though he had not violated any laws and was not under suspicion for a crime, officers ran his plates to find that Glover was driving on a suspended license. They pulled him over and arrested him for driving on a revoked license as a habitual violator.
In a pretrial motion, Glover argued that the stop was a civil rights violation according to the Fourth Amendment prohibition on unlawful search and seizure. The trial court disagreed, but the Kansas Supreme Court found in Glover's favor in 2018. The finding was that police had no reasonable suspicion that the vehicle registered to him was actually being driven by him. The case then came before SCOTUS in 2019.
Parties' Fourth Amendment Arguments: Proponents of Glover's position contend that the stop by Kansas police was based upon nothing more than a hunch about who was driving the car. Anyone could have been in the driver's seat when families and households share a vehicle. The US Department of Justice and nationwide members of the criminal justice community sided with Kansas, stating that stops to apprehend someone driving on a suspended license are reasonable. These encounters present a minimal intrusion and protect the public from dangerous drivers.
Opinion in Kansas v. Glover: SCOTUS found that law enforcement did not violate Glover's Fourth Amendment rights by running the plates and finding a driver's license suspension, since officers had a reasonable suspicion of a crime being committed – driving on a suspended license. However, the Justices noted that the opinion was narrow and would only apply under circumstances that are the same or similar to this case.
Trust a Florida Criminal Defense Lawyer to Protect Your Civil Rights 
The finding in Kansas v. Glover may give police more leeway in investigations during traffic stops, but you should always remember that an arrest is not a conviction. The prosecutor has a heavy burden in proving guilt beyond a reasonable doubt, and there may be defenses and other strategies to fight the charges. To learn more about your civil rights in Florida criminal cases, please contact Fort Lauderdale criminal attorney Kevin J. Kulik to set up a consultation at our offices.
Resource:
scotusblog.com/case-files/cases/kansas-v-glover/
https://www.kevinkuliklaw.com/a-former-prosecutor-is-the-best-florida-defense-attorney/