Tampa, FL Man Arrested On Bombmaking, Destructive Device Charges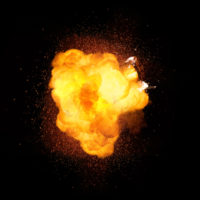 A former Florida National Guard soldier was sentenced on bomb making in an unusual case involving the deaths of his two roommates, according to a January 9, 2018 article appearing in the Tampa Bay Times. While he was never considered a suspect in the killings of the two victims, officials uncovered considerable evidence when they were investigating those crimes. He was eventually charged and pled guilty to possessing crimes regarding destructive devices and explosive materials. Though the man had no criminal history, he was sentenced to five years in prison along with three years of supervised release. The circumstances of his arrest were far from typical, but he will still serve time on the weapons charges, which are extremely serious under Florida and federal law.
What Qualifies as a Destructive Device?
It is against the law to make, possess, throw, or discharge a destructive device, so it is important to understand what kinds of equipment qualify as a crime under the Florida Criminal Code. The statute defines a destructive device as:
A bomb, grenade, or missile-like object that contains explosive material;
Any container filled with explosive materials or gasses which is capable of hurting a person or damaging property;
Any parts which, when constructed together, would convert a device into a destructive device;
Any device that is designated by the federal government's Bureau of Alcohol, Tobacco, and Firearms as being a destructive device;
Any weapon that can be converted into a destructive device and has a barrel more than one-half inch in diameter; and,
The ammunition which can be used with any of these types of destructive devices, with the exception of ammunition typically used in a shotgun or firearm.
Classifications of Device Crimes Under Florida Law
The penalties in connection with destructive device offenses depend on the details of the crime. The Tampa man was not charged with discharge of a destructive device, which may be punished with the death penalty if someone is killed by the bomb. However, the criminal sanctions for possession are still considerable:
Simple Possession or Discharge of a Destructive Device: If there are no aggravating elements, such as bodily harm or property damage, the crime is a Third Degree Felony. A conviction may include a sentence of up to five years of prison and/or on probation, along with a maximum fine of $5,000.
Possession or Discharge with the Intent to Damage or Injure: This crime applies when circumstances indicate that the offender intended to cause

Personal injury;
Property damage;
Interference with government operations; or,
Disruption to another person's private affairs.
This type of destructive device crime is a Second Degree Felony, punishable by up to 15 years in prison, 15 years on probation, and a fine up to $10,000.
Get Legal Help from an Experienced Florida Criminal Defense Attorney
Bomb making and destructive device charges carry significant penalties under Florida law, and can even be more serious under federal law. If you are facing these types of crimes, it is essential to hire a dedicated criminal defense lawyer right away. Please contact the Fort Lauderdale offices of attorney Kevin J. Kulik to schedule a consultation today.
Resource:
tampabay.com/news/publicsafety/crime/Neo-Nazi-Florida-National-Guard-soldier-gets-five-years-in-prison-on-bombmaking-charges_164309905