The Role of Social Media in a Florida Criminal Case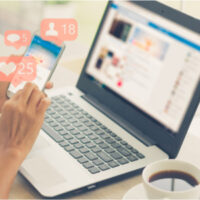 As social media has found its way into personal and professional lives, posts on Facebook, Twitter, Instagram, and other platforms have also become a hot topic in criminal trials. A research report on Law Enforcement Use of Social Media Survey reveals the extent of online content being used in various phases throughout the criminal process. The law enforcement community reported that:
91 percent use it to notify the public about safety concerns;
86 percent employ social media for public relations purposes; and,
59 percent have contacted a company directly to obtain information intended as evidence in a case.
Therefore, there is a chance your own social media activities could be introduced as exhibits for a wide range of purposes. Police and prosecutors will go to great lengths to use social media against you, so you need a Florida criminal defense attorney to even the playing field. You should also be aware of what types of posts may affect different stages of your case.
Before Your Arrest: Social media can play a huge role before you are charged with a crime, as police are investigating and collecting evidence to make an arrest. You might believe your photos, comments, and videos are private, but there is truth to the saying that the internet is forever. Once detectives have probable cause, they can charge you through an arrest or grand jury indictment.
Pretrial: The biggest concern with social media activities after you were charged is how they can impact bail. If a judge reviews your posts about frequent trips or travel to foreign countries, you could be held in custody until your trial date because you seem to be a flight risk. You could also run into trouble if your social media profile indicates that you violated bond conditions. 
Trial: Social media posts could be a key issue at your trial if they act as proof that you committed a crime or somehow link you to the offense. An example might be pictures you posted while out at a bar drinking, which the prosecutor could use if you were pulled over a few hours later for DUI.
Post-Trial Issues: If you receive probation as part of your punishment for a criminal conviction, it is important to use good judgment with your social media activities; your posts could be used as evidence that you violated the terms of your probation. There are serious consequences for engaging in prohibited conduct, especially with certain diversion programs where you agree to plead guilty in exchange for a lighter sentence. Since you already admitted guilt, the judge will immediately move to the sentencing phase.
Speak to a Florida Criminal Defense Lawyer About Your Case
Social media will continue to play a major role in the criminal process, which is why you should limit questionable posts that could lead to an arrest or conviction. In addition, you should retain legal counsel right away if you were charged or think you are being investigated. To learn how our team can help, please contact Fort Lauderdale criminal attorney Kevin J. Kulik. We can set up a confidential consultation to discuss your situation at our offices.
Resource:
urban.org/sites/default/files/publication/88661/2016-law-enforcement-use-of-social-media-survey_5.pdf
https://www.kevinkuliklaw.com/get-florida-criminal-charges-dismissed-at-the-preliminary-hearing/