Your Cell Phone and Your Rights in a Florida Criminal Case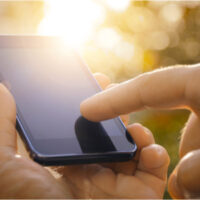 Consumer demand for the latest in cell phone technology remains high, so manufacturers continue their efforts to develop features that give them a leg up over their competition. However, while you might be impressed with the bells and whistles that come with every new device, you may not realize that these innovations could impact your rights in a Florida criminal case. One feature that you appreciate for its convenience is biometrics, in which face recognition and/or finger scanning will unlock your cell phone. If police access the personal, sensitive information, that implicates you in a crime, you could face charges.
Of course, one of the first questions is whether it's legal for officers to force you to unlock your phone via biometrics. The answer isn't simple, as it ties into complex constitutional and civil rights issues. A Florida criminal defense attorney can provide details regarding your case, but an overview may be useful.
Application of the Fourth Amendment: The Bill of Rights and the Declaration of Rights to the Florida Constitution both protect people from unreasonable search and seizure by law enforcement. The only way police can conduct a search is if they have a search warrant, supported by probable cause and signed by a judge. Because forcing you to access your phone via face recognition or finger scan is considered a search, officers must have a search warrant. It's a violation of your civil rights if they don't.
Fifth Amendment Issues on Self-Incrimination: If police do have a proper search warrant and are not violating your Fourth Amendment protections, there may be questions regarding your Fifth Amendment rights. The information on your phone could constitute testimony. Florida's Constitution specifically states that a person cannot be compelled to be a witness against oneself in any criminal matter. By unlocking your phone, you could be providing officers with evidence that could be used against you in court, such as:
Emails and texts;
Photos and video;
Social media content;
Text you send through online messaging services; and,
Contact information and call history.
What To Do in Encounters with Police:  If officers force you to unlock your phone through biometrics, keep in mind the following tips:
Exercise your right to remain silent and don't answer any questions.
Don't make any statements, other than refusing your consent to the search;
If police do have a warrant, review it carefully to determine whether it's signed and provides authority to search your phone;
Never resist police efforts, either verbally or physically; and,
Request to contact your defense attorney immediately.
Contact a Florida Criminal Defense Lawyer Regarding Your Case
The criminal justice system moves slowly as compared to technology, so it could be years before there's a definitive answer on police forcing you to unlock your phone via biometrics. Until then, you should trust experienced legal counsel to assess every possible angle for defending your interests. To schedule a consultation, please contact Fort Lauderdale criminal attorney Kevin J. Kulik. We can provide additional information after reviewing your case.
https://www.kevinkuliklaw.com/can-surveillance-video-be-used-against-me-in-a-florida-criminal-case/