Obstruction of Justice Charges in Florida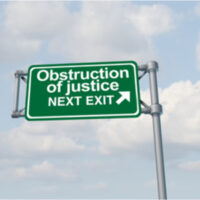 There are many different kinds of acts that you may be surprised are criminal under Florida law, since they do not involve property crimes or offenses against other individuals – at least not directly. However, there is an entire body of laws under Florida's obstructing justice statute that criminalize a wide array of actions. In short, the offenses are unlawful because they prevent officials from doing their job or serving the public in general. If you were arrested for violating various provisions in the statute, you will probably be shocked at the harsh nature of the penalties.
Therefore, you should consult with a Florida criminal defense attorney right away if you were charged with obstruction of justice. This overview of the offenses should convince you of the reasons why legal counsel is critical.
Examples of Obstruction of Justice Offenses: Any action that prevents a law enforcement officer or other government official may constitute an obstruction of justice. One of the most common forms of the crime is resisting arrest, which may be through physical violence or other non-violent acts. Other examples of obstruction of justice include:
Impersonating an officer, which includes assuming an officer's duties, pretending to be police, or taking action on the basis of official authority;
Perjury, i.e., making false, sworn statements to an individual who is authorized to administer an oath – such as a court reporter;
Disobeying an order from law enforcement, as separate from resisting arrest;
Tampering with evidence in a criminal case;
Harassing or tampering with a person who may testify as a witness in a criminal case;
Providing false statements to officers, which is similar to perjury – except you are not under oath. To constitute obstruction of justice, the statements must be made to an officer investigating a felony, a missing person case, or with the intent to impede an investigation.
Penalties for Obstruction of Justice Charges: Many of the offenses described under the statute are First or Second Degree Misdemeanors, which carry up to one year or 60 days in jail, respectively. The fines may range from $500 – $1,000, but a defendant may have to also pay restitution if obstruction of justice led to financial losses for a victim.
More serious counts rise to the level of felony charges. For instance:
Violently resisting arrest is a Third Degree Felony, for which you could be sentenced a maximum of five years' imprisonment;
It is a Second Degree Felony to provide an inmate with tools for escape, so you could face up to 15 years' incarceration; and,
False impersonation of a police officer resulting in death or injury is a First Degree Felony, punishable by up to 30 years in prison.
Talk to a Florida Criminal Defense Lawyer About Your Case 
If you were arrested for obstruction of justice or charged in connection with another offense, please contact Fort Lauderdale criminal attorney Kevin J. Kulik. There are defense strategies available to fight the allegations, but it is essential to get skilled legal counsel on your side right away. Our team is happy to set up a consultation at our office to review your circumstances and discuss next steps.
https://www.kevinkuliklaw.com/types-of-discovery-in-a-florida-criminal-case/